PATHS 06 – TOWARDS COMPOSTELLE … WHAT DISTANCE TO COVER?
The choice of distance to walk will be dictated by the number of days available on site, your daily walking distance limit and the type of terrain.
WHAT IS MY DAILY WALKING LIMIT?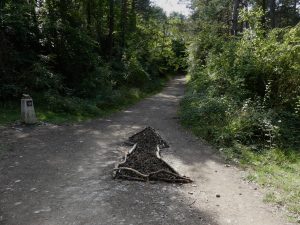 For example, if you are used to walking and your limit is about 25 km / day – that is to say about 6 to 7 hours of regular walking at 4 km / hour on a moderately uneven terrain – you can theoretically claim to be able to cover a total distance of 250 kms if you have 10 days or 350 kms in 14 days.
But this calculation – very theoretical – is not at all realistic since you will also have to take into account a few days of adaptation to get your body used to a new regular and sustained effort, a few breaks while walking to recover, a full day of rest from time to time, a little flexibility in the program, the quarks of the weather and possibly an injury – even a slight one – that could slow you down.
All the more so if it is a first experience for a beginner hiker and without any real knowledge of his or her walking abilities over several days in a row. In short, prudence and moderation should be the main guidelines when choosing the total distance to be covered, even if it means changing the route later.
WHAT IS THE AVERAGE LENGTH OF THE STAGES TO COMPOSTELA?
On a route, the average length of the day-stops is not really significant but rather their number and their respective distances. As an example, and as noted in a specialized and renowned guidebook about two of the most famous routes to Compostela:
The Way of Puy (France)
Approximately 750 km – Average / stage : 23 km – 32 stages including 7 over 30 km – 6 between 30 and 25 km – 10 between 25 and 20 km and 9 stages under 20 km.
The Camino Francès (Spain)
Approximately 800 km – Average / stage: 29 km – 31 stages of which 10 exceed 30 km – 8 between 30 and 25 km – 9 between 25 and 20 km and 4 stages under 20.
Considering these figures and the daily details, it is clear that choosing the distance to be covered and thus determining the itinerary and its duration, is also determining what is acceptable or not for oneself in terms of daily and realistic walking distance.
---

WE ARE HERE FOR YOU!
INFORMATION / RESERVATIONS :