THE PATHS – 04 : TOWARDS COMPOSTELA IN SPAIN
WHAT ARE THE MAJOR ROUTES TO SANTIAGO DE COMPOSTELA IN SPAIN?
In SPAIN, three main roads converge towards Santiago: the CAMINO FRANCÈS, the CAMINO DEL NORTE and the VIA DE LA PLATA.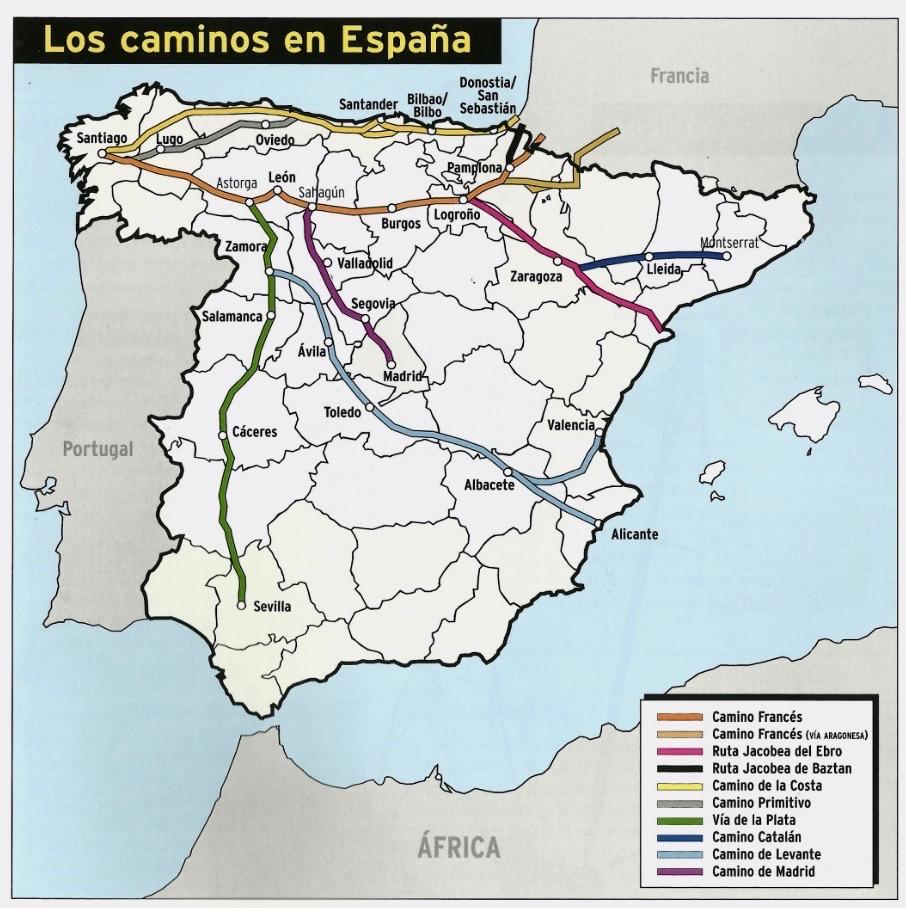 WHAT IS THE CAMINO FRANCÈS?
Distance : approximatelye 800 km. In the past, most of the pilgrims from France took this route, hence its name "The French Way". It begins in St. Jean Pied de Port, crossing the Pyrenees, and goes inland through the regions of Navarra, Castilla y León and Galicia. It is the best known route and therefore the most frequented, especially in season.
WHAT IS THE CAMINO DEL NORTE?
Distance : approximately 850 km. It officially starts in IRUN and at the border, but many walkers start this route in Bayonne and in France. To the north of the Camino Frances, from where it takes its name, it follows for the most part the Atlantic coast before joining the Camino Primitivo in LUGO which leads to Santiago. It is a route between the sea and the mountains with very beautiful panoramas on the Atlantic but also with strong unevenness which makes it a less frequented way than the Camino Frances.
WHAT IS VIA DE LA PLATA?
Distance : approximately 1000 km. It starts in SEVILLE in the south of Spain. It joins the Camino Frances in ASTORGA but there is also, a little before this city, a fork towards the West and OURENSE by the Camino Sanabrès. An ancient Roman road, it is a superb historical route, also marked by solitude in certain sectors, still less frequented. If you prefer less crowds and are ready to complete some long stages, it might be for you. Please note: it is not really recommended from mid-May to mid-September because of the excessive heat.
As in France, there are many other paths that join these great itineraries.
---

WE ARE HERE FOR YOU!
INFORMATION / RESERVATIONS :