THE PATHS – 03 : TOWARDS COMPOSTELA IN FRANCE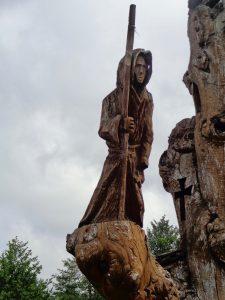 WHAT ARE THE MAJOR ROUTES FOR COMPOSTELA IN FRANCE?
In FRANCE, four main paths converge towards SPAIN: the WAY of PUY-EN-VELAY, the WAY of VEZELAY, the WAY of TOURS and the WAY of ARLES. The first three paths meet near ST-JEAN-PIED-DE-PORT, where many walkers and pilgrims gather before crossing the Pyrenees towards the CAMINO FRANCÈS.
WHAT IS THE WAY OF PUY-EN-VELAY ?
Distance: Approximately 750 km. It starts from the Notre-Dame du PUY-EN-VELAY cathedral, in the Auvergne-Rhône-Alpes region. It is the most known and the most frequented with the superb plateau of Aubrac and the inevitable basilica of Conques.
WHAT IS THE WAY OF VEZELAY?
Distance: Approximately 950 km. It starts from the basilica Ste-Marie-Madeleine of VÉZELAY, in Burgundy-Franche-Comté region. Less frequented, it offers however very beautiful landscapes and cathedrals and abbeys among the most famous in France.
WHAT IS THE WAY OF TOURS?
Distance: Approximately 950 km. It begins at the foot of the Tour St-Jacques in PARIS and passes by the cathedrals of CHARTRES or ORLÉANS, before reaching BORDEAUX and the Spanish border. It is the least frequented by walkers in spite of its small difference in altitude which attracts cyclists.
WHAT IS THE WAY OF ARLES?
Distance: about 1000 km from ARLES in the Provence-Alpes-Côte d'Azur region. It passes through TOULOUSE then crosses the Pyrenees by the COL DU SOMPORT before reaching Spain where it converges with the ROAD TO L'ARAGON which leads to the beginning of the CAMINO FRANCÈS. It is a beautiful route but the steepness of the last part makes many walkers hesitate.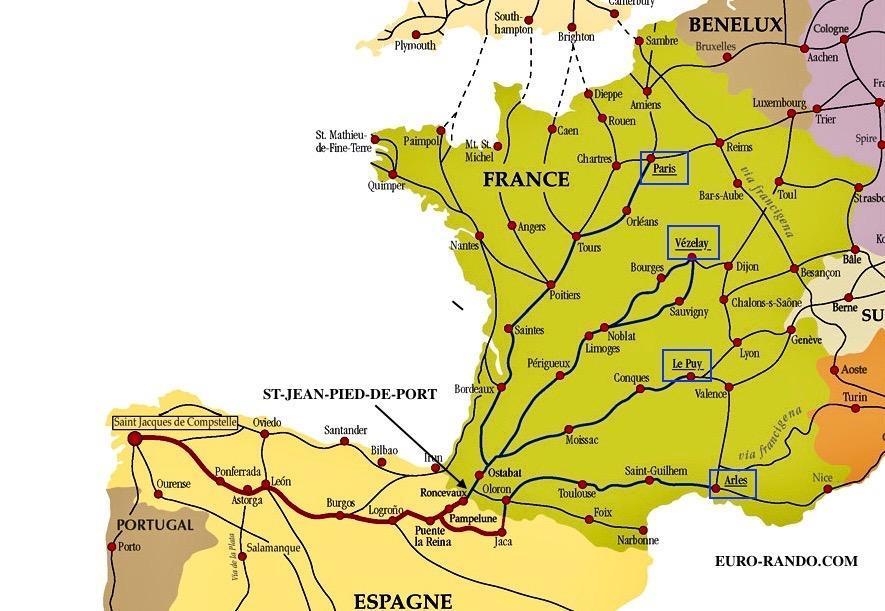 WE ARE HERE FOR YOU!
INFORMATION / RESERVATIONS :